studio wardrobe guide
WHAT TO WEAR IN PICTURES
and what to leave in the closet
Wardrobe guide
REAL TALK...
The most common question I hear is, "What should I wear for my photoshoot?" It's such an important question! Between varying personal styles, wardrobe limitations, those 'last five pounds', or uncooperative kiddos it's tough to find something that everyone agrees on. After years as a professional photographer, I've compiled these tips to help you sort through the closets and come out looking like you were styled by the best, whether it's individual portraits or the whole family.
Tip 1
FIT MATTERS
Fit is my number one tip for a reason... proper fitting clothes make you look and feel your best. Baggy, oversized clothes look sloppy on camera and can make you look heavier than you are. On the other hand, clothes that are too small will ride up, pinch, and show off everything underneath which is not the best look for anyone. If you're constantly having to adjust your outfit, pull this down, pull that up, tuck those in, etc. it's not going to make you feel confident and the pictures will show that. Finding clothes that fit just right and flatter your body can truly make the shot. No, you don't need to go buy a bespoke suit like James Bond, but even casual clothes should fit well. 
Make sure you can move around comfortably so that I'll be able to pose you in fun and flattering ways. (Ladies, this means making sure that skirt isn't too short to sit down in). Plan ahead and try on what you're thinking about wearing in your photos ahead of time. Can you move freely? Fabrics with a bit of give will make the day go easier since we'll be asking you to sit, bend, cross your legs, move your arms, etc. 
Questions/concerns about how best to dress your specific body type? Give us a call, we are your personal stylists and have experience with every age, shape, size, and skin tone.
Ladies, stay away from flutter sleeves as they draw the eye out and make you look wider in photographs.

Guys, if you decide on a classic collared shirt, make sure the neck fits perfectly. Too tight and you'll feel like you have to tuck in a neck roll you didn't know you had, while too big will leave you looking like you borrowed your dad's shirt.
*BONUS TIP: Be sure to choose fabrics that don't wrinkle easily or show sweat stains (whether it's hot outside or you're nervous in front of the camera you should still look cool and confident.) 
Tip 2
BE YOU
Don't feel like you have to try out the hottest trend or make a bold fashion statement just because you're having your picture taken. In fact, please don't. Bold and trendy can be fun for a night out but not ideal for creating timeless heirloom portraits. Whether you're going for dressy or casual, make sure the outfit is your style and not a costume. If you're comfortable in what you're wearing, you'll feel good and that means you'll look good.
*CONSIDER: When debating on something trendy, think about those *amazing*  1980's pictures you've seen and ask yourself, "Will I look this radical to my kids/grandkids when I show them these pictures?"
Tip 3
COLOR PALETTE
The days of matching outfits for the whole family are long gone. Unless your family actually has a uniform... Instead, choose a palette of 2-3 complimentary colors and let each individual express themselves within it. Matchy-matchy is a very dated look but choosing similar colors and utilizing neutrals will make everyone look like they belong together in a timeless way. Finding colors that compliment everyone's skin tones is usually a low level challenge.
Avoid choosing colors that will distract from your faces (like anything neon) and instead think about neutral tones and colors found in nature. Blues, browns, greys, greens, and jewel tones all photograph beautifully. Bright red, orange and yellow can overwhelm the person wearing them so use them as accents instead of the main color.
Patterns are totally fine! They can tie the color palette together and add great texture and show off personality. But use them with caution: If every person is wearing a different pattern your photographer may start getting dizzy. Patterns are best as an accent or on only one article of clothing out of the group. 
*BONUS TIP: When choosing your color scheme, think about where you want to display your finished wall portraits and make sure to choose colors that compliment the decor in that room(s). 
Tip 4
LOCATION APPROPRIATE
In the studio, weather and seasons don't exist so wardrobe is completely flexible, but outside is a different story. Think about where these photos are going to take place and make sure you've dressed appropriately. Don't schedule a session at the park in the middle of summer and show up in sweaters and scarves or the dead of winter with a sundress and sandals on. If you're not dressed for the weather you're exposing yourself to, you'll look uncomfortable and may even have to end the session early. Hypothermia and heatstroke patients aren't the most photogenic.
Also consider your interaction with the location. Might you need to move around, sit in the grass, navigate mud? Don't forgo your style, but come prepared to get a little dirty if it's called for. That's part of the fun of the whole experience of an outdoor photoshoot!
*PLAN AHEAD: Layers are a great way to combat weather constraints as you can easily add or remove them as needed and they can add variety to the final collection of pictures. Bringing spare shoes for getting to a tricky location or extra coats and blankets you can wrap up in between shots are easy ways to get the look you want without the risks.
Tip 5
KIDS
Getting great photos of your kids can be as challenging as it is important. The arduous process begins when you try to get them dressed for the photos. Start by letting them wear clothes that they love and are comfortable in. Putting them in an itchy sweater just because it's cute might result in grumpy faced pictures or temper tantrums. Involving little ones in the outfit picking process will help get them excited for the main event, and if they've put together an outfit they're proud of, they'll be happy to show it off with a smile. Pick a few different pieces out that work with the style and colors you've planned for everyone else and let them narrow it down from there. 
A natural smile is the finishing touch on your kids outfit so it's good to prepare them mentally. Talk about the photo session for a few days before hand, telling them how much fun it will be instead of warning them they'll have to be on their best behaviour. If they're caught off guard or it sounds like work, they're more likely to be uncooperative. Find a word or joke that can always make your little one laugh and let your photographer know what it is. Well timed naps and snacks can work wonders too.
*FUN FACT: Studies have shown that kids who grow up in homes where their pictures are displayed have more confidence and a healthier self image than those that don't.
Tip 6
HAIR & MAKE-UP
Planning to get your hair cut or colored? Do it at least one or two weeks before your session. This will give you time to adjust to the change (or get it fixed if there's a mishap).

Guys, if you want that clean shaven look, bring your razor in case a 5 o'clock shadow pops up. If you rock a beard, make sure you give it some love. A little shaping, trim and beard oil will make a big difference.
Ladies, keep your make-up natural and normal to you. Adding a little extra blush and mascara will give your face definition but there's no need to load up with tons of products you don't use on a normal night out. Be careful when selecting your foundation that it's the appropriate color for you, then blend, blend, BLEND. While we're on foundations, don't try and build up your base with a tan. Whether it's a day in the sun or the spray on kind, just say no. Peeling, dry skin and strong tan lines can only be fixed so much in photoshop. Bottled tanner will mean splotchy color since your make-up bag isn't prepared for those new skin tones or you'll be so uniformly tanned that you lose all bone structure and natural contour. If you must, use a gradual tanning lotion carefully over the week leading up to your session. But only let it build up enough to look like you spent the day at the beach, not a month in the Caribbean.
Avoid "light-reflecting" or shimmer products. They may add that perfect highlight or glow to our skin in person but on camera it's very different. When the camera detects something that is supposed to reflect light, it exaggerates that effect and you could end up with a bright white face with no discernible bone structure left.
*PLEASE: Never, ever wear glitter! It is not a cameras friend and will end up being painstakingly photoshopped out of every picture, one speck at a time.
HIRE A PRO: Not feeling confident in your skills? There are plenty of amazing hair and make-up artists around. Ask at your favorite salon or send me an email for a few referrals.
Tip 7
THE BIG DON'TS
Whatever you decide to wear should reflect who you are so take these tips with a grain of salt but these are my big no-no fashion choices when it comes to having professional portraits done.
Don't wear neon or light reflective anything.
Don't wear ill-fitting or uncomfortable clothes.
Don't wear busy patterns head to toe. 
Don't wear super trendy outfits.
Don't wear logos or clothes with text or graphics.
Don't feel the need to make everyone match perfectly.
Don't keep a hair tie on your wrist.
Don't over-accessorize, keep it simple.
Don't leave bra straps exposed, or panty lines visible.
Don't leave chipped polish on your nails. You don't have to get a fresh manicure but make sure your nails are neat and clean.
Don't forget to keep it timeless and classy, these photos will be around for generations.
*FINAL TIP: Don't overthink it. Relax and enjoy the experience, trust your photographer and have fun!
Inspiration Gallery
Click/tap to view larger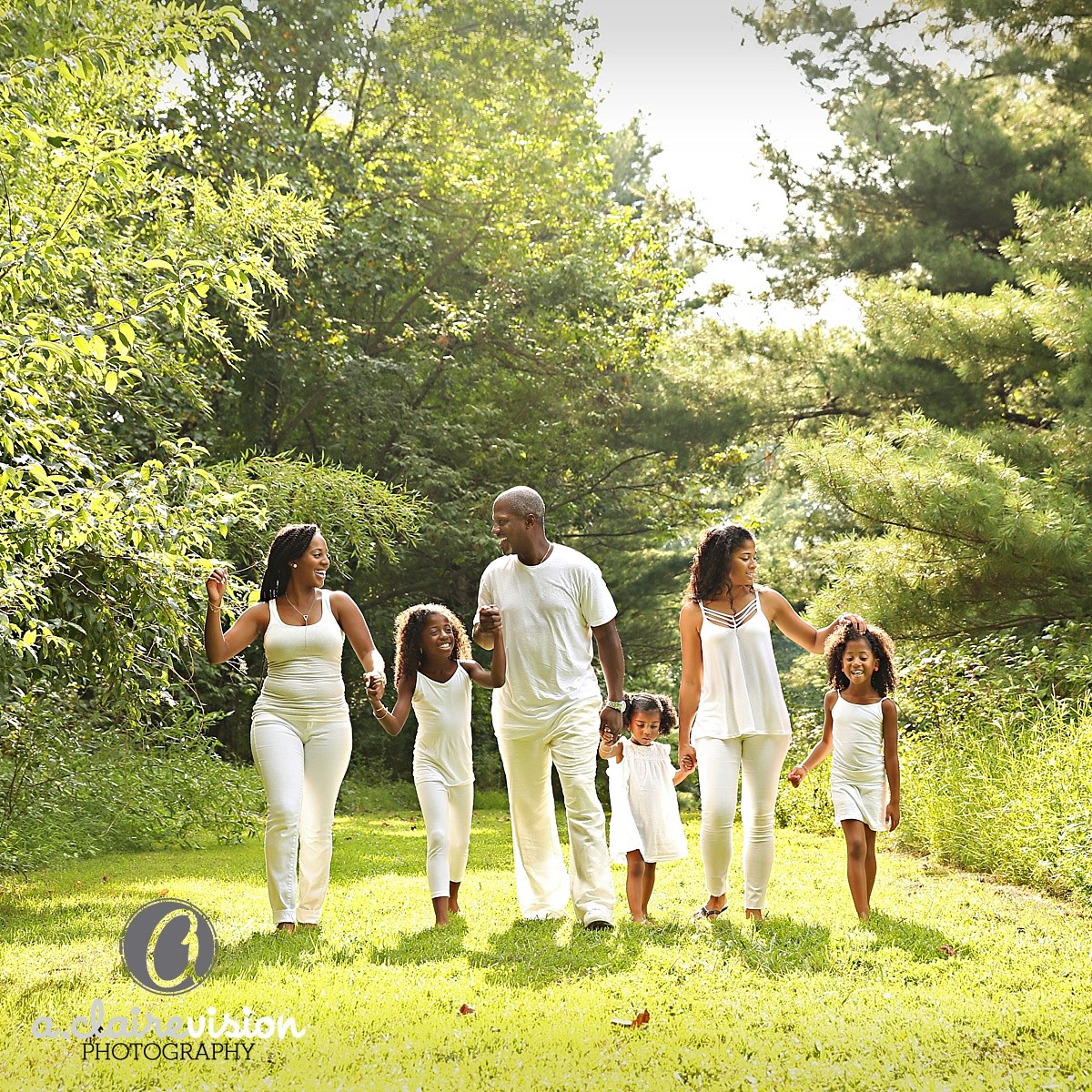 ABOUT A. CLAIRE VISION:
We are an award winning boutique portrait studio run by mother and daughter with over a decade of professional experience. Amanda Claire majored in portrait and photojournalism photography in college but was taking pictures long before that. It was in the genes, with two great uncles working as professional photographers in the 50's and 60's who were featured on multiple Life Magazine covers and White House staff photographers, there was quite a legacy to live up to.
After graduating college, Amanda Claire mentored under several world renowned photographers before starting her own studio, A. Claire Vision. Now, with over a decade of professional experience, Amanda Claire continues to learn and push her creativity behind the camera to ensure her clients have something they will be proud to show off and hand down for generations to come.